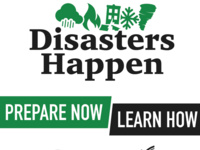 National Preparedness Extravaganza
Disasters happen. Prepare Now. Learn How.
Learn how to be better prepared for any emergency by attending an hour-long seminar in the Knowledge Center or stopping by our tables on the Knowledge Center lawn. Free joint venture to increase personal preparedness by University of Nevada, Reno and Washoe County.
9/10/2018 Mon 8:30 AM 9:30 AM MIKC 201 Washoe Community Emergency Response Team- Be Prepared – Have a Kit. At Home, At Work, In the Car for You, Your Family and Pets

9/10/2018 Mon 1:00 PM 2:00 PM MIKC 305 Washoe Community Emergency Response Team- Be Prepared – Have a Kit. At Home, At Work, In the Car for You, Your Family and Pets
9/11/2018 Tue 8:30 AM 9:30 AM MIKC 104 Nevada Seismological Lab- Earthquake Awareness & Preparation
9/11/2018 Tue 2:00 PM 3:00 PM MIKC 305 Police Services – Active Shooter Training
9/12/2018 Wed 8:30 AM 9:30 AM MIKC 104 Police Services – Active Shooter Training
9/12/2018 Wed 1:00 PM 2:00 PM MIKC 305 Nevada Seismological Lab- Earthquake Awareness & Preparation
9/13/2018 Thu 9:30 AM 10:30 AM MIKC 201 UNR School of Medicine – Basic First Aid & Stop the Bleed
9/13/2018 Thu 2:00 PM 3:00 PM MIKC 305 UNR School of Medicine – Basic First Aid & Stop the Bleed
9/14/2018 Fri 8:30 AM 9:30 AM MIKC 104 EH&S – Fire Extinguisher and Evacuation Chair Training
9/14/2018 Fri 2:00 PM 3:00 PM MIKC 305 EH&S – Fire Extinguisher and Evacuation Chair Training
Friday, September 14, 2018 at 9:00am to 3:00pm
Mathewson-IGT Knowledge Center, See description for session times and rooms
39.5433916198639, -119.815739840269
Pricing
Hashtag

Subscribe