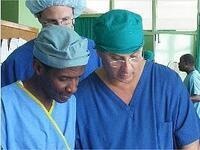 NED FOUNDATION ¨A Spanish Doctor in Africa¨
Dr. José Piquer is a renowned Spanish Neurosurgeon and President of the Neurosurgeon Society of Spain. In 2009, he created the NED FOUNDATION to develop, promote and encourage educational activities that affect neurosurgery in the most disadvantaged regions. Dr. Piquer and his team of volunteers work in the Eastern parts of Africa with two main objectives: Enhancing the clinical skills of African neurosurgeons and residents and developing neurosurgical capacity through the provision of equiptment to hospitals that have extremely limited facilities for such a speciality.
Come join us for a presentation from Dr. Piquer, sharing his experiences with the NED FOUNDATION!
Thursday, March 6, 2014 at 6:00pm
William Raggio Building, 2003
Event Type

Departments

Pricing