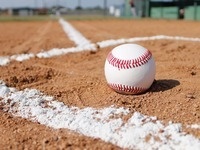 Nevada 4-H Friends & Family Day at the Reno Aces!
Join us for an afternoon of great baseball Sunday, July 22 as the Reno Aces take on the Las Vegas 51s!
Tickets are $16 each, which includes a free Reno Aces baseball cap, great seats for baseball and a chance to meet other 4-H'ers (and their friends and family) from across the state. Plus, that day is $1 hot dog, drink and popcorn day.
This is a fundraiser for Nevada 4-H! After we sell 50 tickets, then part of the ticket sales will come back to the state (and the counties who sell tickets will receive a portion of that). How is this going to happen? Here are the details...
4-H Members and Volunteers sell tickets to all of their friends and family. Each person who buys a ticket will receive a voucher to turn in at the 4-H Table in front of the Aces Ticket Window on the day of the game. There, they will receive their game day ticket and hat coupon. 4-H Members and Volunteers who sell tickets must turn in a tracking sheet and money to the State 4-H Office by July 22.
Here is another incentive for 4-H'ers to get out there and sell tickets. The nine 4-H'ers who sell the most tickets will have a chance to be introduced with the Aces players at the start of the game! If we sell at least $1,500 worth of tickets, we will be able to throw out the first pitch of the game. That will go to the 4-H'er who sells the most tickets overall.
Wear your 4-H shirts and come have a great time. We'll see some great baseball (by two Nevada teams) and our 4-H'ers out promoting this wonderful organization! If you have any questions about this event, please contact Frances Brown at the State 4-H Office, 775-784-4779.
For tickets, visit https://www.facebook.com/events/135440840662288/.
Sunday, July 22, 2018 at 12:05pm
Greater Nevada Field 250 Evans Ave., Reno, NV 89501
Departments

Pricing

Tags

Website
Cost

$16

Hashtag

Subscribe