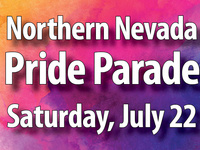 Northern Nevada Pride Parade and Festival
Calling all proud Nevada students, faculty/staff, alumni and community! Be part of Northern Nevada's Pride Parade and Festival on July 22nd, 2017 to celebrate LGBTQIA+ pride in your community. We want our Wolf Pack presence to be bold, unified, and highly visible during the parade and ultimately show that our institution is a welcoming place for LGBTQIA+ lives. The University of Nevada, Reno and the Associated Students of the University of Nevada are proud sponsors of Pride.
Want to Participate in the Parade?
Come March with the Pack!
Meet on Hill Street between West Liberty and Ridge Streets at 10:30 AM for the parade line up. Parade will go from 11 AM – 12 PM and ends at Wingfield Park. Be sure to wear your Nevada Wolf Pack gear!
Can't Make the Parade?
Come Check Out the Festival!
This family-friendly festival will include Pride merchandise vendors, food, fun and entertainment for all LGBTQIA+ identities and allies. Festival will go from 12 PM – 6 PM at Wingfield Park. Make sure to visit the various University of Nevada booths to say hello and show your pride!
Saturday, July 22, 2017 at 11:00am to 6:00pm
Hill Street between West Liberty and Ridge Streets
Event Type

Departments

Pricing

Tags
Hashtag

Subscribe