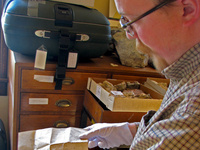 Opening Reception for Keck Museum Exhibit: "Earthquakes, Chukars and Millionaires: The 'Mackay Mines' Story"
A reception Saturday, Feb. 1 will kick off the viewing of a new yearlong exhibit in the University of Nevada, Reno's Keck Museum entitled "Earthquakes, Chukars and Millionaires: The 'Mackay Mines' Story." The reception begins at 4 p.m. and is free to the public, though donations are encouraged.
Spanning all three floors of the W.M. Keck Earth Science and Mineral Engineering Museum, the exhibit will include four sections of history. The topmost floor will detail the University's origins in Elko, Nev., in 1874 before its relocation to Reno in 1886. This history also includes the stories behind the Mackay School of Mines creation, thanks to generous donations by Clarence Mackay, son of silver baron John Mackay. Additional information will detail the building's refurbishments in the 1970s and 1990s.
An analysis of the museum's future and various historical collection objects will be shown on the first floor, including unique rocks, bottles and handmade labels made before 1950. In the basement, visitors will be able to see the University's first seismograph, an analog model from 1915. The seismograph was the first earthquake research the University conducted and eventually led to the Nevada Seismological Laboratory.
More stories and historical accounts will be found throughout the exhibit, including opportunities for visitor participation. Visitors can take an exam from the 1940s, try to identify mystery items that have yet to be identified, and write down a favorite memory of the Mackay School of Mines or Keck Museum on the Sticky Note Wall.
For more information about the museum, its location and hours, visit http://www.mines.unr.edu/museum/.
Saturday, February 1, 2014 at 4:00pm
Mackay School of Mines, Keck Museum