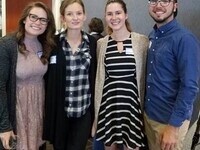 Pack Internship Grant Program Info Session
The Pack Internship Grant Program (PIGP) provides funding for individual student internships with local businesses, non-profits and public agencies. Co-sponsored by the Nevada Career Studio and ASUN, the program helps create paid internship opportunities for students, offering the chance for real-world experience in a variety of professional fields.
Come to an info session to learn more about the 2017-18 program, the available internship opportunities and the student application process.
Session 1: 12:30 to 1:00pm
Session 2: 1:00 to 1:30pm
Thursday, September 14, 2017 at 12:30pm to 1:30pm
Departments
Group

Subscribe