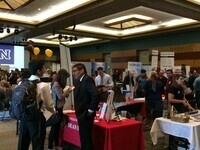 Part-Time Job & Internship Expo
Come to the 4th floor ballrooms in the Joe Crowley Student Union on Thursday, August 30th, from 10:00 AM to 2:00 PM to find a full time career opportunity, part time job, or internship! Employers will be looking to hire students for hundreds of positions, full time and part time, both on and off campus. Employers represent a wide variety of industries and are interested in hiring both undergraduate and graduate students across all academic colleges. Dress to impress, and bring copies of your resume.
Visit the Career Studio, the University's Central Career Services Office, to learn more. Drop in the week of the Expo (August 27-29) and get an Expo Survival Kit with tips for how to prepare for the Expo and free goodies from participating employers!
Thursday, August 30, 2018 at 10:00am to 2:00pm
Joe Crowley Student Union, 4th Floor Ballrooms
1500 North Virginia Street
Departments
Group

Subscribe