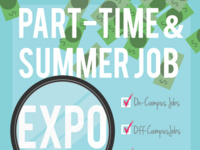 Part-time & Summer Job Expo for Students
Hey students! Need money?
If you need a part-time job, don't miss the Job Expo at the Joe. Connect with employers on campus and off. Learn how to get hired this Spring, Summer or next Fall.
Check out who's coming to the Expo by clicking on this employer list.
Thursday, February 6, 2014 at 11:00am to 2:00pm
Joe Crowley Student Union, Glick Ballrooms B & C
1500 North Virginia Street
Departments

Pricing

Tags

Website
Group

Subscribe