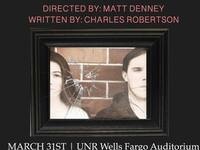 Pretty Pieces by
*** Contains adult language and themes. ***

In celebration of World Day of Theatre:
"Pretty Pieces"
Directed by: Matt Denney (UNR Senior, Majoring in Theatre Education | Directing Debut)

CAST:
Girl ... Cassady Anderson
Boy ... Ryan Corrigan

SYNOPSIS:
Pretty Pieces is a powerful one act play about a young man and a young woman who are trapped on the fringes of society in a run-down apartment. They are brother and sister and something horrible happened to them a long time ago. Because of what happened to them, their relationship is doomed. The young man tries to forget but he can't. He copes by using drugs and selling his body. The young woman copes by building a psychological and emotional cage which traps her in the apartment.

DETAILS:
- Wells Fargo Auditorium ( 1st Floor of Knowledge Center
- Saturday, March 31st 7-8pm. Doors open at 6:30.
- FREE ADMISSION.
Saturday, March 31, 2018 at 7:00pm to 8:30pm
Wells Fargo Auditorium, MIKC 124
Event Type

Departments

Pricing

Category
Cost

Free

Hashtag

Subscribe