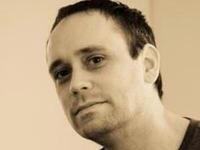 Public Lecture by Dr. Casey Boyle
The Rhetoric@Reno Club, a graduate student chapter of the Rhetoric Society of America at the University of Nevada, Reno, has sponsored a public talk by Dr. Casey Boyle from the University of Utah. Dr. Boyle will discuss his current research involving interactions between humans and new media and technologies on Friday April 4th at 4pm at the University of Nevada, Reno. Please join us for Dr. Boyle's lecture, question and answer session, and reception.
Much of Dr. Boyle's scholarship emphasizes our relationships to new and emergent technologies and explores how these relationships construct the world we live in. Such research in digital humanities is pertinent across disciplines including Philosophy, History, English, Communication Studies, Sociology, Anthropology, and Linguistics. However, in addition to interacting with the work within and between these disciplines, elements of Dr. Boyle's work that focus on the role of technology in shaping everyday discourse will certainly interest members of the local community.The central goal of this event is to increase critical awareness of how these emerging technologies intervene with established traditions and the implications for further developing sustainable conditions for engaging with a variety of communities.
This event is funded in part by a grant from the Nevada Humanities with additional financial support provided by the University of Nevada College of Liberal Arts and the Hilliard Endowment.
You can learn more about Rhetoric@Reno by visiting our website: http://groups.unr.edu/rhetoric/
Friday, April 4, 2014 at 4:00pm to 5:30pm
Event Type

Departments

Pricing