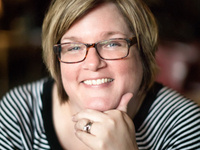 Reading by Novelist Lori Rader-Day
Lori Rader-Day's debut mystery, The Black Hour, won the 2015 Anthony Award for Best First Novel and was a finalist for the 2015 Mary Higgins Clark Award. Her second novel, Little Pretty Things, won the 2016 Mary Higgins Clark Award and was a nominee for the Anthony Award for Best Paperback Original. Little Pretty Things was named a 2015 "most arresting crime novel" by Kirkus Reviews and one of the top ten crime novels of the year by Booklist. Her third novel, The Day I Died, was an Indie Next Pick and is a nominee for the Mary Higgins Clark Award and the Barry Award. Her short fiction has been published in Ellery Queen Mystery Magazine, TimeOut Chicago, Crab Orchard Review, Freight Stories, and in the anthology Dia de los Muertos. Bestselling author Jodi Picoult chose her story as the grand prize winner of Good Housekeeping's first fiction contest. She lives in Chicago.
Rader-Day will read from her work and sign books at the Nevada Wolf Shop, on the 2nd floor, at 6:30 PM on the evening of March 27. Admission is free.
This visit is made possible by the College of Liberal Arts' Hilliard Endowment and the Department of English.
Tuesday, March 27, 2018 at 6:30pm to 7:30pm
Nevada Wolf Shop, 2nd Floor
Event Type

Departments

Pricing