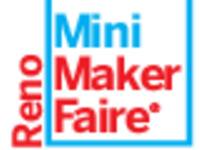 Reno Mini Maker Faire
Maker Faire is the Greatest Show (and Tell) on Earth—a family-friendly festival of invention, creativity and resourcefulness, and a celebration of the Maker movement. This event is created by MAKE Magaizine to celebrate the arts, crafts, engineering, robotics, science projects and the Do-It-Yourself (DIY) Mindset.
Part science fair, part county fair, and part something entirely new, Maker Faire is an all-ages gathering of tech enthusiasts, crafters, educators, tinkerers, hobbyists, engineers, science clubs, authors, artists, students, and commercial exhibitors. All of these "makers" come to Maker Faire to show what they have made and to share what they have learned.
Hosted by DeLaMare Science & Engineering Library and Local Reno Community
Saturday, June 7, 2014 at 10:00am to 6:00pm
300 E. 2nd Street, Reno NV 89501