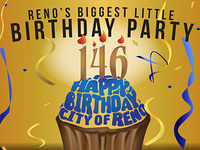 Reno's Biggest Little Birthday Party
A walking tour of 12 historic sites in downtown Reno and the University of Nevada, Reno begins and ends at the Virginia Street Bridge downtown beginning at 2 p.m. Participants can use the new RenoHistorical.org app to learn about the sites and meet with historic costumed characters and guides.
There will be fun activities, including a chance to win "play money" at each location on the route by answering historic trivia, posting pictures to Facebook and Twitter, and just for stopping by. At 4:30 p.m., a reenactment of the historic auction to sell off plots of land in Reno will begin on the Riverwalk next to the Virginia Street Bridge. Bidders can use the fake money they collected to secure a pseudo "deed" to their favorite area. The event is sponsored by the City of Reno, Historic Reno Preservation Society and the Riverwalk Merchants Association.
Saturday, May 10, 2014 at 2:00pm to 5:00pm