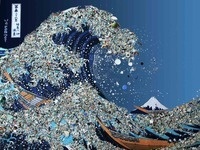 Artown event: Reused + Recycled = Art Opening Reception and Presentation
An official Artown event, the reception will feature self-guided tours of the exhibit, Reused + Recycled = Art, and a presentation by University of North Carolina Wilmington plastic marine debris researcher and ocean plastics artist Bonnie Monteleone, whose traveling art show will also be on display.
Art made of 80% reused or recyled materials has been selected from more than 200 entries from local artists, University of Nevada, Reno art students and local high school art students.
Doors open at the Knowledge Center at 1 p.m. for exhibit viewing, the Monteleone presentation is at 2 p.m., light refreshments at 3 p.m. and more exhibit viewing until 5 p.m.
The exhibit, open July - September, is the signature event of the Summer of Sustainability on the University of Nevada, Reno campus and can be enjoyed during regular Knowledge Center hours which can be found at http://knowledgecenter.unr.edu/.
RSVP for the reception at: http://campusguides.unr.edu/sos
Sunday, July 13, 2014 at 1:00pm to 5:00pm
Mathewson-IGT Knowledge Center, Whittemore Gallery & Wells Fargo Auditorium, First Floor
39.5433916198639, -119.815739840269
Event Type

Departments

Pricing

Website