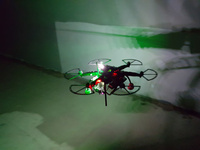 Robotics Day
Curious about robotics? The Autonomous Robots Lab invites you to an open house to learn about the state of the art in robotics, identify research opportunities, and discuss how robotics can change our societies.
Events begin at 9 am. A live demo of aerial robotics will be from 12:00 to 1:30 pm in ARF 004. Keynote speaker Dr. Sebastian Scherer from Carnegie Mellon University will speak from 3:00 to 4:00 in the Knowledge Center Auditorium.
A complete schedule of events is available on the Robotics Day webpage.
Friday, March 31, 2017
Mathewson-IGT Knowledge Center
39.5433916198639, -119.815739840269