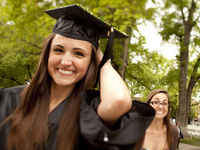 Senior Scholars Banquet
Each semester, the University of Nevada, Reno and the Alumni Association honor an undergraduate student from each school or college who meets the exceptional Senior Scholar program standards.
Eight seniors will be recognized at an honors banquet hosted by the University and Alumni Association Wednesday, May 14. The event begins at 6 p.m. in the Milt Glick Ballroom C on the fourth floor of the Joe Crowley Student Union.
The seniors to be recognized are Erika Vicente, Nathan Tewalt, Breanna Hall, Dipto Moni, Jessica Fagundes, Linda Enwald, Frank Gonzalez and Brooks Klein.
Wednesday, May 14, 2014 at 6:00pm
Joe Crowley Student Union, Milt Glick Ballroom C
1500 North Virginia Street