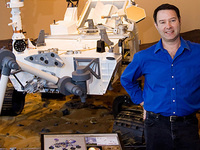 Space Explorer Jim Bell to speak at Discover Science Lecture Series
What would it be like to take a vacation on other planets or a weekend on one of the 63 moons of Jupiter? Find out from noted astronomer, planetary scientist, interplanetary travel guide and Arizona State School of Earth Science and Space Exploration Professor Jim Bell in a free public lecture at the University of Nevada, Reno.
His Sept. 20 lecture, titled "The Ultimate Interplanetary Travel Guide: A Futuristic Journey Through the Cosmos," will take the audience on a tour of what the solar system has to offer as of 2018: hiking, sightseeing, photography, musical performances, fine dining, extreme sports, even citizen science research opportunities on places like Mercury, gas giants, moons of the outer planets and even beyond.
Bell is a professor in the School of Earth and Space Exploration at Arizona State University, and president of The Planetary Society, the world's largest public space advocacy organization. He has a main belt asteroid named after him (8146 Jimbell) and has received the Carl Sagan Medal from the American Astronomical Society for excellence in public communication in planetary sciences.
Thursday, September 20, 2018 at 7:00pm to 8:00pm
Davidson Math and Science Center
1055 Evans Avenue, Reno, NV 89512, USA
Event Type

Departments

Pricing