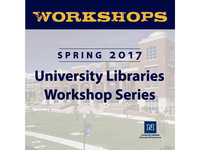 Spring 2017 University Libraries Workshop Series: Introduction to 3D Modeling with Solidworks
Introduction to 3D Modeling with Solidworks
The University Libraries now offer access to three different 3D printers in the DeLaMare Science & Engineering Library. Yet, in order to
3D print your own idea, you need to design and create a 3D model. In this introductory session directed at beginners, expert Tech Wranglers will teach you what modeling programs are available to you, how to get started with 3D modeling, and you will leave with a simple 3D file ready to print.
About the Spring 2017 University Libraries Workshop Series:
University Libraries is offering a spring workshop series on a number of different topics, such as citation management, copyright, patent and trademark searching, author rights, video recording, determining where to publish, and more. The University Libaries' workshop series is also sponsored by the University Graduate School and the Graduate Student Association (GSA). Workshops begin in February and run through May 2017.
The workshops are primarily designed for faculty and graduate students, although anyone with a valid University of Nevada, Reno NetID is welcome to attend.
"For the Libraries, outreach to the campus is a top priority,"University Libraries Director of Research Services Ann Medaille said. "By offering these free, educational workshops we hope to provide attendees with an opportunity to learn something new. Content learned in the workshops will equip attendees with valuable skills that can be used for teaching, research, and other endeavors."
Monday, March 27, 2017 at 6:30pm to 7:30pm
DeLaMare Library, Dataworks South Lab - Basement Floor
1664 N. Virginia St. Reno, Nevada 89557
Event Type

Departments

Pricing

Website