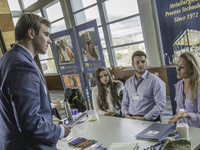 STEM Career & Internship Fair
Students, are you looking for a job or internship? The STEM Career & Internship Fair is the place for you! Come to the Glick Ballrooms on the fourth floor of the Joe Crowley Student Union on Thursday, Feb. 14 from 10 a.m. to 2 p.m. to find a career opportunity, part time or seasonal job or internship.

Bring your resumes, and dress for success!

Employers will be looking to hire STEM undergraduate and graduate students from a variety of the most in-demand disciplines for hundreds of positions, full time and part time, both on and off campus.

Below is a list of the companies that have registered for the fair so far. Keep an eye on the website, www.unr.edu/stem-career-fair/students. It will be updated as more companies register to attend!
Denele Analytical
GCW, INC
Geologic Associates, Inc.
Geotemps, Inc.
Kinross
Ledcor CMI
Nevada Department of Transportation
Nevada Division of Minerals
Placer County Human Resources
Southwest Gas Corporation
SSR Mining Inc. Marigold Mine
Western Cultural Resource Management
Wednesday, February 13 at 10:00am to 3:00pm
Joe Crowley Student Union, Glick Ballrooms, Fourth Floor
1500 North Virginia Street
Departments

College of Science, Biology, Chemistry, Physics, Mackay School of Earth Sciences, Mathematics and Statistics, Molecular Microbiology and Immunology (MMI), Atmospheric Science, Chemical Physics, Cell and Molecular Biology, Geo-Engineering, Geography, Geological Engineering, Geology, Hydrogeology, Hydrology, Land Use Planning, Mathematics, Metallurgical Engineering, Neuroscience, Statistics, Geophysics, Mining Engineering, College of Agriculture, Biotechnology and Natural Resources, Biochemistry & Molecular Biology, Center for Resource Economics, Natural Resources & Environmental Science, Nevada Agricultural Experiment Station, Desert Farming Initiative, Nutrition, Agriculture, Veterinary and Rangeland Sciences

Pricing

Website
Group

Subscribe