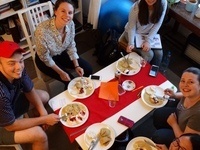 Study Abroad Meet & Eat
Curious about Study Abroad? Discover the right opportunity for you! Come chow down on international snacks and explore what study abroad can do for you! Ask questions about the process, locations, or learn how to use study abroad to your resume and job search!
Food includes breads and spreads from around the world, don't miss out!
Thursday, November 15, 2018 at 1:00pm to 3:00pm
USAC Virginia Street Gym Office, Bottom Floor
Event Type

Departments

Pricing

Website