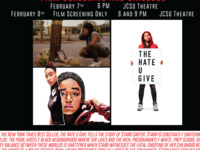 "The Hate U Give" Film Screening
Based on the New York Times Best Seller, The Hate You Give tells the story of Starr Carter. Starr is constantly switching between two worlds: the poor, mostly black neighborhood where she lives and the rich, predominantly white, prep school she attends. The uneasy balance between these worlds is shattered when Starr witnesses the fatal shooting of her childhood best friend Khalil at the hands of a police officer. Now, facing pressures from all sides of the community, Starr must find her voice and stand up for what's right.
If you require a reasonable accommodation in order to participate in this event, please contact Morgan Zuziak two weeks prior to the event at 775-784-6505 or mzuziak@unr.edu.
Friday, February 8 at 6:00pm
Joe Crowley Student Union
1500 North Virginia Street
Departments

Pricing
Group

Hashtag

Subscribe