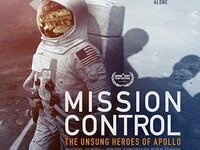 The Moon & Mission Control
Celebrate International Observe the Moon Night on Oct. 28! See our beautiful satellite through Physics Department telescopes, then join us for a screening of the outstanding NEW film Mission Control: The Unsung Heroes of Apollo!
Screening features a LIVE introduction and Q&A with Tom Taormina, who was working in Mission Control the night the "Houston, We Have a Problem!" call came in!
Come get a FREE NASA calendar and a chance to win a NASA Mission Patch!
Tickets (below) are free for UNR students with a valid student ID. All others are just $10.
For a peek at the trailer, please visit www.NevadaSpaceCenter.org
Saturday, October 28, 2017 at 7:30pm to 9:30pm
Davidson Math and Science Center
1055 Evans Avenue, Reno, NV 89512, USA
Event Type

Departments

Pricing

Website