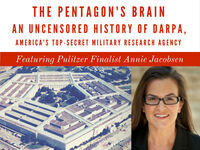 THE PENTAGON'S BRAIN - An Uncensored History of DARPA, America's Top-Secret Military Research Agency
No one has ever written the history of the Defense Department' s most secret, most powerful, and most controversial military science R&D agency.
In the first- ever history about the organization, New York Times bestselling author and Pulitzer prize finalist Annie Jacobsen draws on inside sources, exclusive interviews, private documents, and declassified memos to paint a picture of DARPA, or " the Pentagon' s brain, " from its Cold War inception in 1958 to the present.
This is the presentation on DARPA- - a compelling narrative about this clandestine intersection of science and the American military and the often frightening results.
Tuesday, March 14, 2017 at 7:00pm
Mathewson-IGT Knowledge Center, 124
39.5433916198639, -119.815739840269
Event Type

Departments

Pricing