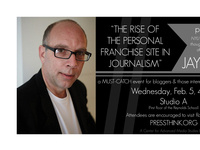 "The Rise of the Personal Franchise Site in Journalism"
NYU professor Jay Rosen, a leading authority on the evolution and future of American journalism, will give a talk at The Reynolds School on Wednesday, February 5th at 4 p.m. in Studio A as part of the Center for Advanced Media Studies (CAMS) Speaker Series.
"Jay Rosen is, simply put, one of the most significant thought leaders in journalism," said Reynolds School Dean Al Stavitsky. "It's huge for the Reynolds School community to have this opportunity to learn from and speak with Jay."
Jay's talk will examine what it means for journalism when individual star journalists (Ezra Klein/Nate Silver/Bill Simmons) create their own news franchises within existing media companies. The journalists build their own personal online following, develop their own niche sites and negotiate a balance of power around content—creating what Rosen refers to as the "state-within-a-state-model."
Rosen is the author of PressThink, an influential blog that addresses the fate of the press in a digital era. He is a frequent contributor to the national conversation on the future of journalism and an associate professor and Director of Studio 20 at the Arthur L. Carter Journalism Institute at New York University.
Rosen is also a partner in the widely discussed new journalism venture launched by eBay founder Pierre Omidyar and Glenn Greenwald, the Guardian columnist who published the classified documents on government surveillance leaked by Edward Snowden.
Wednesday, February 5, 2014 at 4:00pm to 5:00pm
Reynolds School, Studio A
Event Type

Departments

Pricing

Website