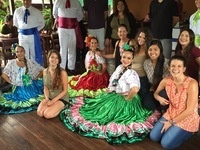 USAC Open House: Featuring Costa Rica presentation
USAC welcomes students, faculty and staff to our Open House where light refreshments will be served. USAC staff will be on hand to talk with students about their opportunities to study abroad.
A presentation from our Costa Rican program staff WILL BEGIN AT 1PM. Learn about our programs in Costa Rica and how you can get involved!
Tuesday, November 13, 2018 at 12:00am to 2:00pm
USAC Annex, Carmelo Urza Conference Room (2nd floor)
Departments

Pricing

Website