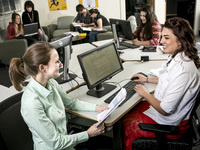 Virtual Resume Review
Enjoy a free, personalized resume consultation with a Career Studio adviser... without even leaving home.
All University of Nevada, Reno students and alumni can register for free to participate in this virtual resume review. Receive private, expert feedback to make your resume as effective as possible. A great resume will set you apart from the competition.
How it works
The conversations will be 8-10 minutes and text based. It is important you prepare in advance so that you make the most of your time with each reviewer. Since there is a limited number of reviewers, you may have to "wait in line" until a reviewer becomes available.
Register now! It's free and and takes less than a minute to reserve your spot.
Tuesday, February 4, 2014 at 6:00pm to 7:30pm
https://www.brazenconnect.com/event/unr-resume-review
Departments

Pricing

Tags

Website
Group

Subscribe