Pennington Student Achievement Center
The William N. Pennington Student Achievement Center brings together vital student centers formerly scattered throughout the campus under one roof. This new facility encourages interaction among students, staff, and faculty of all backgrounds by providing gathering spaces and student resource centers that are open and accessible to every member of the campus community.
Meet your Nevada Money Mentors and learn to save more money! *America Saves seeks to motivate, encourage, support low- to moderate-income households to save...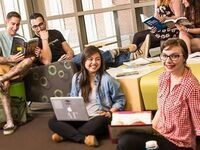 Come listen to University students share their writing project, processes &
The University Advising Center will be hosting the 3rd Annual Battle of the Brains Competition. This event offers our pre-health organizations the...
Recent Events